Christine Riutzel has gained local notoriety as a muralist, and for her bold, contemporary art style.
A member of the Southern Missouri Arts Connection, Riutzel is heavily involved in the local arts. Her mural work can be found in several local establishments and parks, with vivid colors and designs, which give a vibrant spark to their surrounding area. 
Riutzel said her artistic endeavors weren't something considered to be of importance in her childhood.
"I think I've always been an extremely creative person and drawn to people with artistic abilities, and art in a broad sense, in general. But I have kind of a weird background," Riutzel said. "I was raised extremely legalistic; a fundamental reformed Calvinist, which is not really well known like Mormons or Jehovah witnesses. Over a period of time, my dad started to become more and more obsessed with living very black and white, and feeling separated from society. When I was 14, we moved to a church which ended up being a cult."
Riutzel said at the time, her creativity didn't fit in with the lifestyle she was being raised in.
"My role as a daughter was, 'When you're ready, we'll find your husband. You don't need to go to college; your interest in creativity is just something that you were born with or that God just gave you, or it just runs in the family.' So a lot of the stuff that I made, my parents didn't really appreciate or didn't care," Riutzel said. "So if I had done just animals and landscapes and portraits or whatever, they probably would have been cool, but never once did they talk to me about having a career because it just was not expected."
Riutzel said as she got older, she wanted to have a conversation with her parents about getting an education, but knew it wouldn't go far. 
"I wanted to talk about going to art school with my parents, but I knew it was just not gonna happen, because my dad is very anti paying taxes to the government…so no FASFA, no funding or scholarships of any kind, unless I got insanely good grades, which I was an average student," Riutzel said. "I was homeschooled the whole time. We were super involved in the pro life movement so we would live in our van and travel around the Midwest, shutting down abortion clinics. So it was this very 'Us versus them' mentality of like, the outside world was a terrible place and we could not hang out with people who are not believers. I had this fearful mindset at a very young age. So a lot of the stuff that I was interested in, I just never talked to my parents about because I did not see a future in it."
Riutzel said her interest in art was sparked when she met a special teacher.
"It's not like this great story of, 'Oh, I've always wanted to be an artist.' I didn't know that it was an option," Riutzel said. "My mom put us, me and my sisters, into this homeschool clinic where they'd meet once a week at a church and do extra classes. She put us in this art class because she was like, 'My daughters are so talented, and I can't teach them art,' and this particular art teacher was the best person I've ever met. We started out with early 20th century abstract expressionism. This is the stuff that my parents hate, and I went through a tiny little rebellious phase. It's unfortunate, because I cannot find that teacher on the internet anywhere; she just disappeared, and I really want to find her and show her that she changed my life."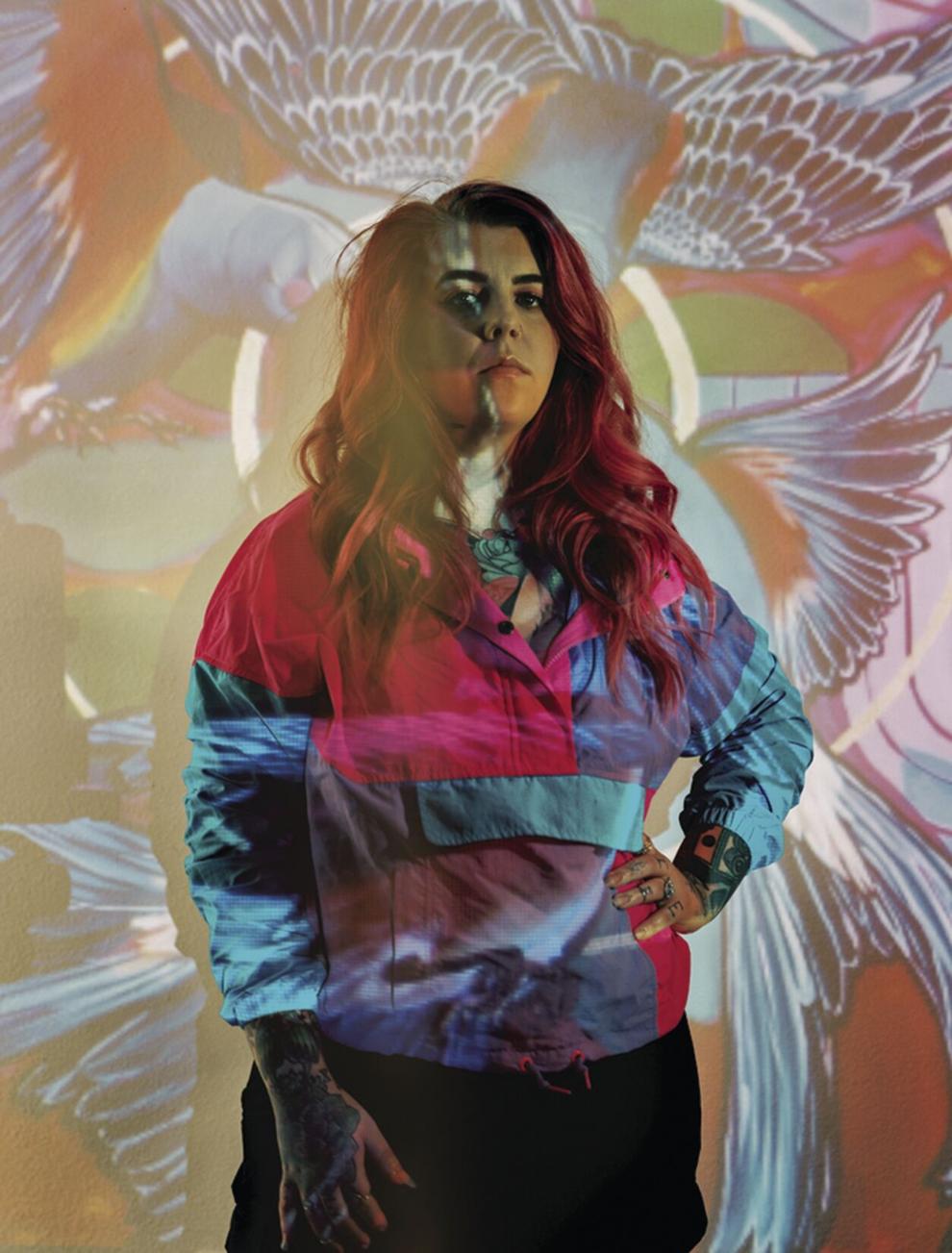 Riutzel also gave credit to her husband, who enabled her to get more involved in her pursuit.
"I grew up here and we moved away and then came back. I started reconnecting with friends and family here. And that's where I met my husband, Lucas," Riutzel said. "It wasn't until my husband got a really good paying job, to where I could quit my job. And he said, 'Okay, figure out what you want to do,' so I was like, I'll get into real estate. I'll flip houses. I'll do photography. I'll try this and this and this, and nothing really seemed to stick."
Riutzel said she spent time pursuing home decor, which opened a doorway to the idea of creating art as not only a passion, but as a way to make a living. 
"I started painting again for fun because I had so much wall space. I needed some art in my house. I was just doing it for fun and people kept saying, 'You're really good!'," Riutzel said. 
From there, Riutzel began looking at different styles of art and avenues she could take to create revenue from her work. In 2018, an unplanned conversation with the owners of Skate World opened a doorway for future opportunities.
"I used to not be this kind of person, but I was like, 'Can I come up with some concepts for you? I would like to paint your walls.' And I was kind of shy, showing some work on my phone that I did. And they just didn't really respond. I mean, they're not artists," Riutzel said. "So they were like, 'Oh, that's nice.' So I went and bought brown contractor's paper, and just started doodling. I unrolled it and showed it to them and they're like, 'Oh, it's great! When do you want to start?'"
Riutzel said the experience gave her a needed confidence boost and encouraged her to branch out.
"They basically got a $40,000 mural for $4,000. They got a steal. I think they know that now. I just can't believe they let me do that. Which, it just says I'm more capable. I know how to do art. To have a professional business person validate that was exactly what I needed," Riutzel said. "I did the mural in six months and the owners were kind enough to let me host an open house. It was a public event and 300 people came; half the people I didn't even know. This stuff actually still holds up. I think it did a pretty good job."
Riutzel said since she's become more involved in the local art community, it has helped her to create relationships which have helped her grow as an artist. 
"I'm finally surrounded by my own people that are feeding me and critiquing me in ways that I'm actually growing," Riutzel said. "I was just stagnant for so many years. I don't regret how it was, but I'm using it as a way to really accelerate my career quicker. I feel like I have a lot to make up for. But that drive is good for me, in a sense. It's like once I started getting all these jobs, I don't advertise. I don't really get sales from people online or whatever; just word of mouth. It was really cool for me to get every job I got. I got paid more and more, and it gave me a lot of peace of mind. I've never been that person of like, 'When I grow up, I'm going to do this'. I feel really lucky, and I'm realizing I could have felt this empowerment like years ago, if I had actually believed in myself and had a really good support system at a young age."
When asked about plans for 2023, Riutzel said she hopes to focus on her art and the possibility of a residency.
"This year, I'm only going to be focusing on making personal art, and that's why a residency is really good for someone like me, who's kind of mid-career. It puts you in a studio setting with other artists. It's almost like a college experience, but for professionals for like, for eight weeks," Riutzel said. "It's just, make art; no distractions, no nothing. All your needs are taken care of. And there's so many around the country, and they're really competitive. I don't know if you're familiar with Nick Cave, but he's a huge artist right now. He blew up after a residency in Omaha, Nebraska. And so I'm like, I don't have to leave the Midwest to really get to the next level. I don't know exactly what it looks like, but all I'm doing in the spring is just updating my website, trying to look more professional, only showing my fine art pieces, and getting to that next level. I will always have roots here, but while I'm still young and I don't have a lot of responsibility, I want to take risks and get out there."
Riutzel is also interested in doing mural work based on the area's history. She is looking for a "donor" who would be interested in allowing her to use a wall on their business for a Rose O'Neill mural. 
"Commercial jobs are something that I can always pick up whenever I need to. But now, if I'm gonna do a mural, I want it to either benefit my community or improve my artistic skills," Riutzel said. "For example, I have connected with a handful of people online who are really big into the Rose O'Neill Foundation, and I really want to do a rose O'Neill tribute mural. I could do it pro bono, but it needs to be in a really high traffic area. I will put tons of work into that but it needs to benefit. Or even like something that contributes to Steve Miller. I'd be interested in doing something like that."
Riutzel said she tries to surround herself with people who care about integrity, communication, growing as a person, being vulnerable, being authentic. 
"Those are things that I value in myself, and I want to value in other people as well," Riutzel said. "I want that to reflect in my personal work, as well as touching on issues like childhood nostalgia, trauma, relationships with parents and all that kind of stuff. I just want to be around good people."
For more information about Christine Riutzel's work and services, go to www.beautyfromlight.com.