Hollister High basketball player Garrett Snyder is traveling on the court, but there's no violation to be found.
Snyder has had nothing short of an impressive athletic career in his time at Hollister. Alongside his teammates, Snyder provided plenty of excitement on the basketball court during the 2022-2023 season, ending with a 22-5 record and participating in the Class 4 District 11 tournament. 
Branson Tri-Lakes News recently asked the senior to reflect on his high school basketball career.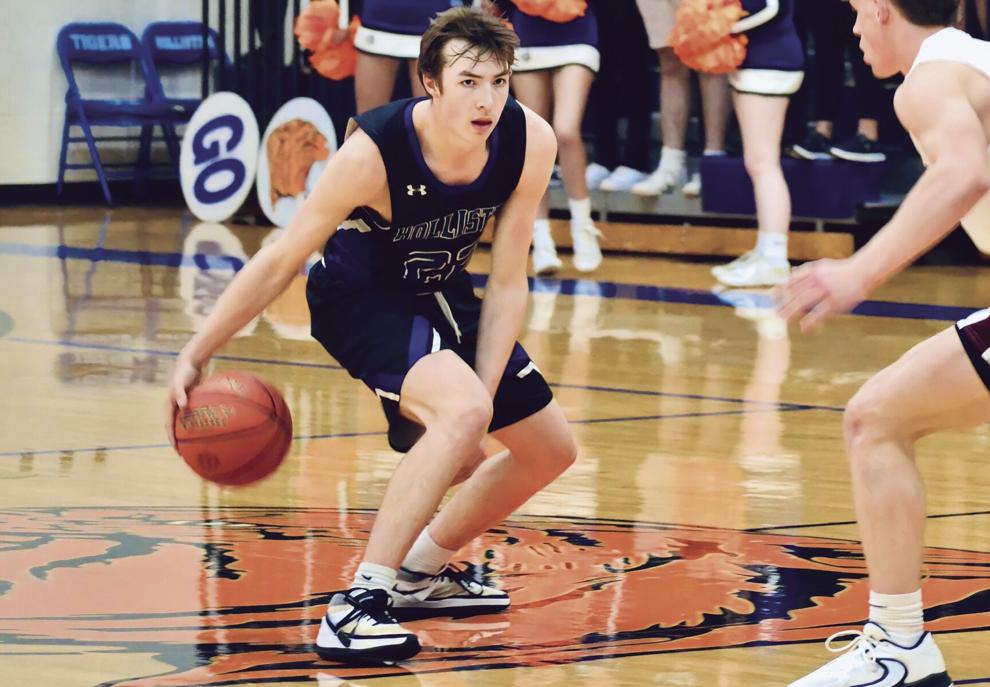 What are some of your high school basketball accomplishments?
I moved from Forsyth to Hollister with my dad at Christmas break my freshman year. Coach Leonard chose to play me at the varsity level once I was eligible and that opportunity really gave me the experience and confidence I needed starting my high school career. As a sophomore I started and made a couple all tournament teams, made the second team All Big 8 East and the All District Team. I averaged 15 points/game.
As a Junior, I made the all tournament team in 3 tournaments and made 1st team All Big 8 East and the All District team. I improved my scoring average to 17/game. 
This past year I was named tournament MVP of the Forsyth Tournament and the Conway Tournament and made the all tournament team at Walnut Grove. I made the 1st team All Big 8 East for the second time and finished second in player of the year voting. I made the All District team for the 3rd time. I was also named to the Missouri Class 4 All State team. 
I also finished my career as the all time scoring leader for Hollister High School finishing with a total of 1,599 points. I averaged 26 points/game this year. 
Which of those accomplishments means the most to you?
They all mean a lot holding a record is something I've always dreamed of and for me to hold the points record is a kids biggest dream. 
What draws you to basketball more than other sports?
The feeling of big moments. Hitting a big shot, dunking the ball, your team forcing a big turnover. Stuff like that excites me and working as a team, helping your guys out. You're only as strong as your weakest link.
What helps you to mentally and physically prepare for a game?
I try not to think too much. I just go out there firing and adjust to what needs to be done. 
How important have your teammates and coaches been to your success?
They have pushed me to be a better man and athlete. We strive for greatness every time we step on the court and I wouldn't have changed one teammate or coach.
How do you feel about playing in college?
It's been my biggest goal my entire life. I feel that I can make College of the Ozarks better and get them back to where they used to be.
What are your goals for the future?
To get my degree in wildlife management and possibly minor in business.
If you could give advice to younger athletes coming up, what would it be?
The path to success isn't always easy! The bumps and the curves are what define you as a person and athlete. When you think you've worked enough, work a little more. It will make a difference. 
What do you like to do when you're not on the court?
I love to hunt and fish.
Who's the GOAT?
Michael Jordan is the greatest of all time.
Anything else you'd like readers to know?
I am the person I've become because of athletics. I was always told I would learn life lessons and strong character through the hard work, dedication and commitment learned through sports. I believe that this is very true.
When asked about Snyder, Hollister Basketball Coach Pete Leonard said he is the type of player who makes coaches want to get into coaching.
"Every coach hopes they get to coach a kid like Garrett at some point in their career," Leonard said. "Garrett's work ethic and drive to be the best he can be is unmatched; his leadership is by example and expects out of his teammates what he expects out of himself! Garrett left his mark on Hollister not only as a good athlete but also as a good student and good role model."
Area basketball fans will continue to have an opportunity to watch Snyder play at College of the Ozarks under Head Basketball Coach Steve Shepherd, where he hopes to excel both on and off the court.